Hello!
Wondering If anyone else have gave Iridium browser a shot.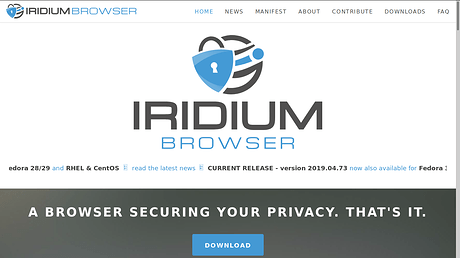 Its a FOSS that is privacy oriented, based on chromium engine which has been completly stripped down of all the google telemetry and tracking elements. Additionally it has made a lot of changes by default that an average-joe might miss out that can improve his browsing experience along with privacy.
Its highly deployable. Available for almost any popular desktop OS like Deb [or deb based OS], MacOS, Windows, Suse, Fedora, RHEL/CentOS…you get the point.
Since Parrot have included "Privacy Suite" as a selling point on download/documentation page, I reckon giving users flexibility of choice to choose between firefox or Iridium [i.e chromium based] browser by default on installing OS would be awesome. Especially for users switching from Windows.
One can argue that : how is it different from chromium which is available from apt repo, and the answer to that is,
Iridium has following things Up from chromium by default -
Security improvements:
Increase RSA keysize to 2048 bits for self-signed certificates (used by WebRTC)
Generate a new WebRTC identity for each connection instead of reusing identities for 30 days
Generate a new ECDHE keypair for each WebRTC connection instead of reusing them for multiple connections
Disable using system-provided plugins (i.e. Java, Flash, etc.)
Privacy enhancements:
Disable "Use a web service to help resolve navigation errors"
Disable autocomplete through prediction service when typing in Omnibox
Always send "Do-Not-Track" header
Network/DNS prediction is disabled by default
Block third-party cookies by default
Link auditing (<a ping="link here">) is disabled by default
Fetch plugins list from iridiumbrowser.de where it will be updated regularly
Site data (cookies, local storage, etc.) is only kept until exit, by default
Passwords are not stored by default
Input form autofill is disabled by default
For IPv6 probes, use a DNS root server instead of Google
The default search provider is Qwant
Load "about:blank" on new tabs instead of the currently set search engine and/or promotions.
Don't report Safe Browsing overrides.
Don't use autofill download service.
Disable cookies for safebrowsing background requests.
Disable the battery status API.
Disabled features:
Disable background mode
Disable EV certificates, so they are shown just like "normal" certificates
Disable Google cloud printing
Disable Google hot word detection
Disable Google experiments status check
Disable Google translation service
Disable Google promotion fetching
Disable Google Cloud Messaging (GCM) status check
Disable Google Now
Disable automatic update check
Disable profile-import on first run
Networking changes
Network/DNS prediction is disabled by default
Link auditing (<a ping="LINK here">) is disabled by default
Other changes
Add DuckDuckGo search provider
Add Qwant search provider
Add certificate pinning for iridiumbrowser.de
Let user confirm downloading translation dictionaries from Google
Always prompt for download directory
Don't ask to send settings to Google by default on profile reset
Don't warn about missing API keys (services are not used anyway)
Iridium will show a warning bar when running possibly unwanted requests (trk prefix)
Show all extensions (including internals) in chrome://extensions.
For installing it on debian,
wget -qO - https://downloads.iridiumbrowser.de/ubuntu/iridium-release-sign-01.pub|sudo apt-key add -
cat <<EOF | sudo tee /etc/apt/sources.list.d/iridium-browser.list
deb [arch=amd64] https://downloads.iridiumbrowser.de/deb/ stable main
#deb-src https://downloads.iridiumbrowser.de/deb/ stable main
EOF
sudo apt-get update
sudo apt-get install iridium-browser

I've been using it for a while now, works flawless [initially had to make few changes in firejail profile but other than that, no issues]. The repo regularly pushes for security patches and upgrades just like chrome.
Maybe @palinuro & other devs can have a look at it and share their thoughts.
Cheers!