Briefly describe your issue below:
Hi, I am having an issue with Nepali text display of linux system.
The texts are displayed in broken form. I mean while typing or browsing the web having Nepali language, the characters are displayed differently than they should be.
you can check the below screenshots of text display.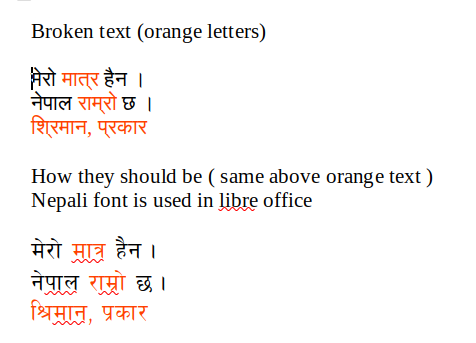 Well I found a way to solve this issue at this link
https://aabhash.com.np/fix-nepali-devnagari-texts-display-problem-on-ubuntu/
but it only works for ubuntu because I couldn't install the package suggested in that page in Parrot.
so, is there any way to fix this issue? or at least a way to install the package suggested in that page in parrot.
What version of Parrot are you running? (include version (e.g. 4.6), edition(e.g. Home//KDE/OVA, etc.), and architecture (currently we only support amd64)
Parrot Security 4.10 Mate
What method did you use to install Parrot? (Debian Standard / Debian GTK / parrot-experimental)
USB bootable stick
Configured to multiboot with other systems? (yes / no)
yes, windows 10 and Parrot
If there are any similar issues or solutions, link to them below:
https://aabhash.com.np/fix-nepali-devnagari-texts-display-problem-on-ubuntu/
If there are any error messages or relevant logs, post them below: