1. Your Parrot information
OS version: run cat /etc/*release
4.11
Kernel version: run uname -a
5.5.0-1
Or if you can't do it, please tell us ISO version you downloaded.
** ISO information **
Version: 4.11
Desktop Environment: Mate
Edition: SEC

2. If you have this problem after fresh installation:
How did you create USB bootable?

Software was used to make USB
Steps of making USB bootable

How did you install OS?

Debian installer or Calamares installer?
3. If your hardware doesn't work: wifi doesn't show, graphic issue:
Hardware information
- Your device name or output of `lspci`
    Copy output here
- Did you try searching info about this issue on search engine? Please write **No** or any URL to this issue bellow

https://forums.kali.org/showthread.php?48930-Cannot-open-access-to-console-the-root-account-is-locked
4. How did you get this error? Are there any steps to procedure it?
I started heavy multi tasks (ram almost full) , like  downloading torrents, Gimp photo editing, liberoffice editing, browsing internet with some white hacko & pentesting ..etc , then the electricity suddenly cut off :(

5. Error log or screenshot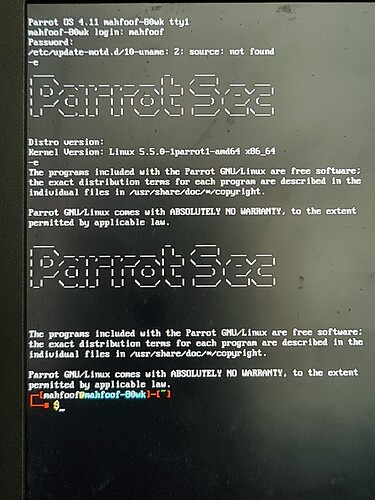 6. If you have any idea or suggestion about this issue please tell us
** Your information **
If you are having suggestion for our OS, please write it bellow
1. Current Parrot version and Parrot version you want it has
If you can add an option of live disk - Re-install/upgrade the distro without losing data already saved data which I think can help to auto fixing some corrupted or missed files … thank you
2. Its section and how it affects our system
Pentesting / Forensic / Malware hunting / Privacy protection / …
It is: AppArmor profile / software / system service / kernel module…
when user runs this / start that, it can do…
3. Any other information about this idea