Hello guyz I would really need some help here.
Everything was running smooth until i logged in from my university's wifi. After the connection was made i had to enter my uni's credentials on a web page so i could use the Internet.
I did my job and I also did a 'sudo apt update && apt upgrade' which run perfectly.
After that I went home, and i couldn't do anymore 'sudo apt update'. This is the error I get: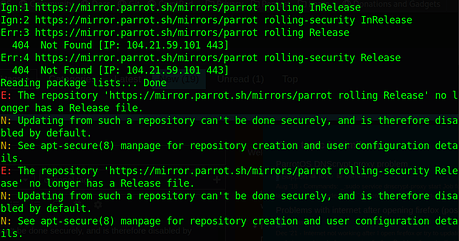 I think something was messed up with the dns server but i can't fix it. The truth is that I don't have a lot of experience on linux, and it seems very complicated problem for me. But I would like to avoid reinstalling the OS or change to another OS, cause i really like parrot.
I also did NOT use anonsurf.
Thank you in advance!