I run VMWare Fusion with Parrot Security (both of KDE & Mate).
Parrot-security-4.11.3_amd64.iso
Parrot-kde-security-4.11.3_amd64.iso
I can't run or install new apps like the one listed below:
 theHarvester
 Unicornscan
 DNSRecon
 SNMP-check
 Enum4linux
 Yersinia
 arpspoof
 macof
 Skipfish
 sqlmap
 WAFW00F
 Weevely
The same error appears when I install the above applications:
Reading package lists… Done
Building dependency tree… Done
Reading state information… Done
E: Unable to locate package theHarvester
---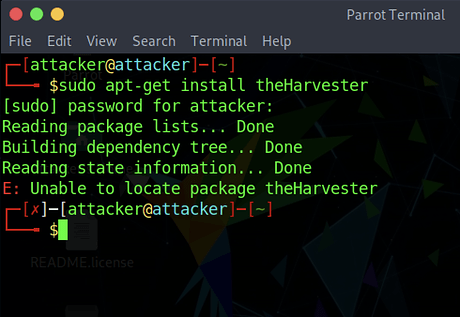 Can someone please help me.
Thanks in advance!