Hello, I am a beginner and I come from Ubuntu.
Following the Debian guide on the Proton VPN site I have a problem that prevents me from installing it.
(Parrot Security Edition KDE Desktop Version 5.0)
The terminal tells me:
$sudo apt-get install protonvpn
Reading list of packages… Done
Creating dependency tree… Done
Reading status information… Done
Some packages could not be installed. This may mean that you asked for an impossible situation or, if you are using the unstable distribution, that some necessary packages have not yet been created or have been pulled from "Incoming".
The following information may help resolve the situation:

The following packages have unfulfilled dependencies:
python3-protonvpn-nm-lib : Broken: protonvpn-cli (< 3.11.0) but 2.2.4-2 is going to be installed.
E: Could not fix the problems, you have retained broken packages.
Here is the screenshot (Spanish):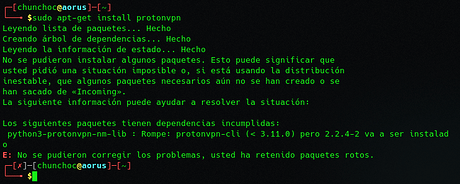 I have searched and tried for days to fix the error on my own but have found nothing. This is my last hope, I'm desperate…