Okay, I've been using Linux for a few days, so please don't judge if this is a stupid question. I'm trying to use Airgeddon for a bit of Wi-Fi experimentation. I am using:
Parrot OS 4.11.1 .OVA Security/MATE
Windows as my primary OS
Panda PAU06 Network Adapter - in AG it shows up as wlx9cefd5fbe4a7 // 2.4Ghz // Chipset: Ralink Technology, Corp. RT5732
From the looks of it, I need to install a driver. My internet seems to connect fine (virtual ethernet adapter via VirtualBox).
When I set it up in monitor mode and load the handshake tools menu, then explore for targets, nothing shows up even though I am surrounded by targets. Sometimes messages pop up for a fraction of a second below the menu.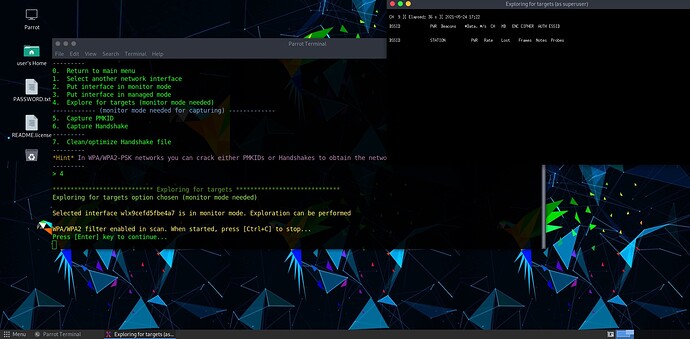 Output of lspci: