Hello Parrot community,
qBittorrent does not launch normally in Parrot Home 32-bit (neither in the 3.11 nor in the 4.0 beta release). When I open qBittorrent from the main menu nothing happens, nothing appears on the screen. However, in the Mate System Monitor qBittorrent appears, but only with 'Zombie' status. See attached image.

In the 64-bit version of Parrot 3.11 - both the Home and Studio editions - qBittorrent launches without any problems (I checked).
I downloaded Parrot Home 3.11 32-bit version, and installed it in a VMware Workstation 14 Player virtual machine, using GTK GUI installer (later I installed using the Debian standard installer, but that made no difference).
The qBittorrent malfunction has been reported twice on the Parrot Forum, but with no solution provided, and neither poster mentioned whether they were using 32-bit or 64-bit Parrot OS (here and here).
Steps I have taken to try and make qBittorrent work on Parrot Home 32-bit version:
I did an apt full-upgrade, which upgraded my 32-bit OS from Parrot 3.11 to Parrot 4.0-beta;
I uninstalled qBittorrent using synaptic, then reinstalled it.
Neither of these steps helped, qBittorrent still won't launch.
The only thing that has helped so far is to launch qBittorrent from the terminal using the following command:
firejail --noprofile qbittorrent (thanks to Serverket's post about firejail)
Strangely, when I launch qBittorrent from the terminal like this:
it still has '(sandboxed or root)' written at the top of the program's window frame and,
in the Mate System Monitor it is listed as a sub-process of firejail (see picture below).
I also get the following message in the terminal: Warning: an existing sandbox was detected. /usr/bin/qbittorrent will run without any additional sandboxing features.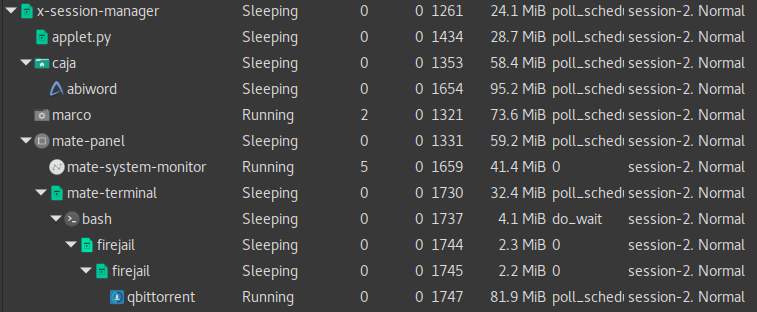 It seems that the problem may be linked to firejail. Does anyone know how to make qBittorrent launch normally in the 32-bit version of Parrot Home edition?
Thanks in advance,
Whisker
---
What version of Parrot are you running? Release 3.11 32-bit; Kernel Linux 4.14.0-parrot13-686-pae i686; MATE 1.18.0
apt full-upgrade to
Release 4.0-beta 32-bit; Kernel Linux 4.16.0-parrot5-686-pae i686; MATE 1.20.1