Administrating KISMET Via Smartphone
This tutorial assumes you know the basics of KISMET. If you have not done so read:
Administrating KISMET from our cell phone offers freedom of movement. Instead of having to carry around an open laptop, we only need to carry our cell phone (and who isn't always on their cell phone?).
To make the connection we will turn our phone into a hotspot, creating an LAN network between phone/laptop from which we connect back. Finally, logging into KISMET via our phone's web browser.
Step 1.) Turn Your Phone Into A Hotspot. Connect laptop to phone hotspot.
Step 2.) Edit /etc/kismet/kismet.conf (or ~/.kismet/kismet.conf) to show correct phone's LAN assigned IP/port (so kismet laptop knows who to accept connections from) & source KISMET listening wifi device on laptop to login via http browser as shown below:
Step 3.) Edit /etc/kismet/kismet_httpd.conf (or ~/.kismet/kismet_httpd.conf) to show your chosen username/password for the remote http browser login from phone as shown below for example (SSL setup not included here):

Step 4.) Start KISMET as daemon to run in background:
sudo kismet --daemonize
Step 5.) Open browser on your phone. Type in the LAN laptop IP address with :2501 extension for port (or another port if you chose such) as shown below in browser screenshot. Login using the username/password you setup in Step 3 in /etc/kismet/kismet_httpd.conf (or ~/.kismet/kismet_httpd.conf) :
You should now be administrating KISMET from your phone.

You should see a list of networks as seen in the example screenshots below:
Here is a labelled administration screen for your reference:
Step 6.) This can be handy if you wish to walk around with KISMET laptop running in a laptop bag for example, while administrating KISMET from your handheld phone:
Right click your laptop battery icon in the corner of your desktop. Select preferences. Fit your settings to match below so KISMET continues running while your laptop is closed in your bag, so you can administrate uninterupted: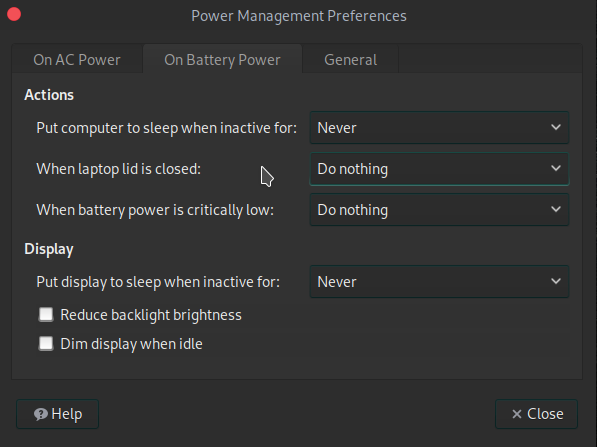 Now you should be all set to close up your laptop, put it in your shoulder bag & do all administration from your handheld smartphone!
That is all for now