After each reboot the popup to check updates appears. If yes is pressed this popup appears: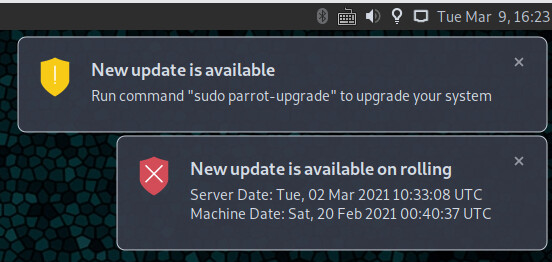 The machine time is not correct and the server time should not be mach day 2.
After pressing that i want to update and introducing the password nothing happenes (it runs but no updates are done) since i am already up to date.
How can I fix the wrong machine/server time and avoid getting fake update messages?
DISTRIB_ID=Parrot
DISTRIB_RELEASE=4.10
DISTRIB_CODENAME=rolling
DISTRIB_DESCRIPTION="Parrot 4.10"
PRETTY_NAME="Parrot GNU/Linux 4.10"
NAME="Parrot GNU/Linux"
ID=parrot
ID_LIKE=debian
VERSION="4.10"
VERSION_ID="4.10"
HOME_URL="https://www.parrotsec.org/"
SUPPORT_URL="https://community.parrotsec.org/"
BUG_REPORT_URL="https://community.parrotsec.org/"
Kernel version:
Linux parrot 5.10.0-3parrot1-amd64

#1

SMP Debian 5.10.13-3parrot1 (2021-02-25) x86_64 GNU/Linux
Using VMWare Worksation on windows host.
I suspect that once the machine time and server time are fixed the fake update messages will disappear but as it can be seen in the image the machine time is correct.