Hello everyone I hope you're doing great.
I just have a problem in adding Persian Keyboard Layout in parrot Security edition (Mate)
At the first when I go to Keyboard section in Control Center then in Layouts tab, and then in pressing Add button, and finally going to By Language tab and selecting Persian, I can't see the preview and it's still showing the English keyboard layout.
But it's not all.
When I click the Add button, I get this error :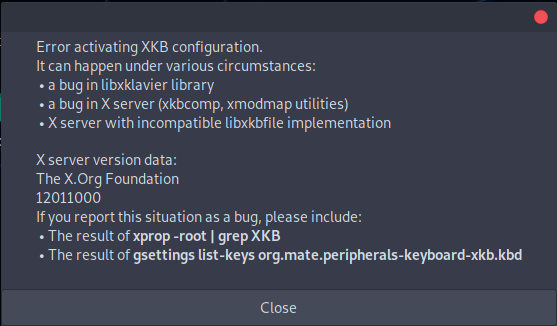 And here is the result of the command told in the error windows to run and then report the problem :
$xprop -root | grep XKB
_XKB_RULES_NAMES_BACKUP(STRING) = "evdev", "", "us", "", ""
_XKB_RULES_NAMES(STRING) = "evdev", "", "us", "", ""
$gsettings list-keys org.mate.peripherals-keyboard-xkb.kbd
layouts
options
model
Can anyone help me? This is a very negative point that I'm getting a error in adding a keyboard layout, That's much important for me to do this.