Please complete our guideline for issue report or idea suggestion
If you are having an issue, please follow this
There are many kinds of issues: OS, software, server, … So you must know:
Server issues will be fixed after report and we verify the problem. There will be no update patch for you. It is server side.
3rd party software / packages can't be fixed by us. If we can spot the bug and have the fix, we will create merge request to original source and wait for their official version.
Life is hard. For bug/ issue, please make sure your topic is only one. Dont make developers be terrorists.
This is a rolling distro. Bugs and issues are expected. We recommend you have basic linux knowledge to deal with your system, so
Usually we don't support issues that user faces by using his system in a wrong way. If you are new to Linux, make sure you didn't make any mistake:
1. Your Parrot information
OS version: run cat /etc/*release
```
DISTRIB_ID=Parrot
DISTRIB_RELEASE=4.10
DISTRIB_CODENAME=rolling
DISTRIB_DESCRIPTION="Parrot 4.10"
PRETTY_NAME="Parrot GNU/Linux 4.10"
NAME="Parrot GNU/Linux"
ID=parrot
ID_LIKE=debian
VERSION="4.10"
VERSION_ID="4.10"
HOME_URL="https://www.parrotsec.org/"
SUPPORT_URL="https://community.parrotsec.org/"
BUG_REPORT_URL="https://community.parrotsec.org/"

 ```


Kernel version: run uname -a
```
Linux Gryffindor 5.9.0-2parrot1-amd64 #1 SMP Debian 5.8.10-2parrot1 (2020-10-05) x86_64 GNU/Linux

  ```

Or if you can't do it, please tell us ISO version you downloaded.
** ISO information **
Version: 4.10
Desktop Environment: Mate
Edition: Security

2. If you have this problem after fresh installation:
3. If your hardware doesn't work: wifi doesn't show, graphic issue:
4. How did you get this error? Are there any steps to procedure it?
This problem is occurring with  5.9.0-2
If I am booting with  5.8.0-2 with advance, bootup goes successful
and there is an another error on grub 
 ```
 error: font character not in ascending order: 1157422139 <= 2456651214
 error: no suitable video mode found
 error: no video mode activate.

After updating through apt-get upgrade i am having another error

awk: error while loading shared libraries: /lib/x86_64-linux-gnu/libreadline.so.8: cannot read file data: Input/output error
/usr/sbin/dkms: line 1315: ((: < 2: syntax error: operand expected (error token is "< 2

5. Error log or screenshot
** Insert error log and screenshot here**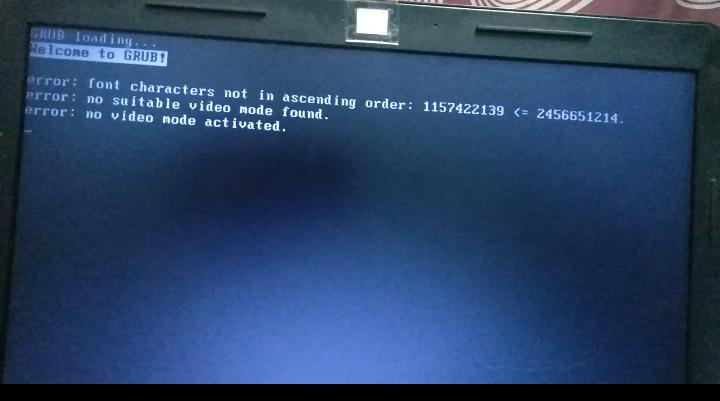 6. If you have any idea or suggestion about this issue please tell us
** Your information **
If you are having suggestion for our OS, please write it bellow
1. Current Parrot version and Parrot version you want it has
2. Its section and how it affects our system
Pentesting / Forensic / Malware hunting / Privacy protection / …
It is: AppArmor profile / software / system service / kernel module…
when user runs this / start that, it can do…
3. Any other information about this idea