I am very newbie to Parrot OS
I tried to use a program named V2rayA. but it need exact time synced by internet.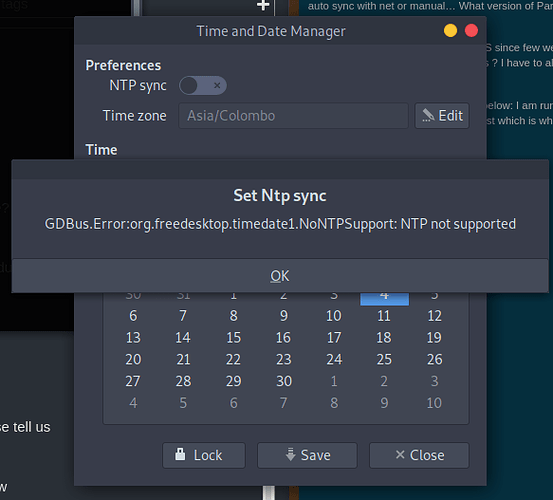 then I do some small googles searches and I fount it cause because systemd-timesyncd.service won't doing correctly
then I tried to fix it. but I got this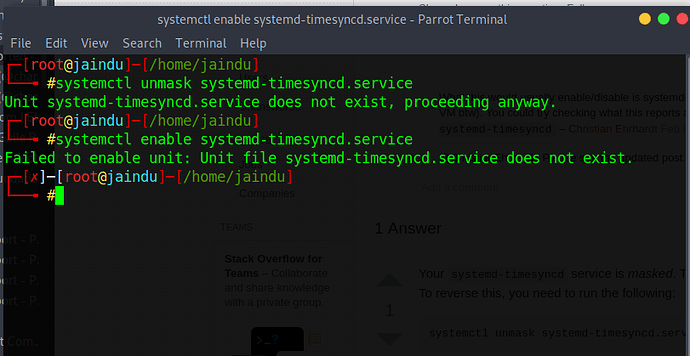 How can I fix it.
my os info is
'''
┌─[✗]─[root@jaindu]─[/home/jaindu]
└──╼ #cat /etc/*release
DISTRIB_ID=Parrot
DISTRIB_RELEASE=4.11
DISTRIB_CODENAME=rolling
DISTRIB_DESCRIPTION="Parrot OS 4.11"
PRETTY_NAME="Parrot OS 4.11"
NAME="Parrot OS"
ID=parrot
ID_LIKE=debian
VERSION="4.11"
VERSION_ID="4.11"
HOME_URL="https://www.parrotsec.org/"
SUPPORT_URL="https://community.parrotsec.org/"
BUG_REPORT_URL="https://community.parrotsec.org/"
'''
Kernal info
'''
┌─[root@jaindu]─[/home/jaindu]
└──╼ #uname -a
Linux jaindu 5.10.0-6parrot1-amd64 #1 SMP Debian 5.10.28-6parrot1 (2021-04-12) x86_64 GNU/Linux
'''