I hope you don't change my dear MATE desktop environment because it has already overidentified with ParrotOS. Personally, it is the best desktop environment and one of the major reasons why i use ParrotOS.
Your desktop just lacks fireworks!



Should i Uncover it? (to Parrot OS Team)
Maybe i Should Not Unless Officially Announced

Please don't. We want it be a secret until it is ready. I'll select some specifics users to test it.
I know exactly what that is and I think it would be fantastic if it came to Parrot!
Pretty exciting if it works out IMHO.
And i knew there are people knew it, ofc hehe. That is not something THAT secret but ofc as long as it is kept as secret, i believe it makes a great surprise to user.
Yes. Perfect for home users. I don't think use it for security (pentest) edition is a good idea because it is not a lightweight thing compares to other DE we are supporting. It is still better than gnome3. I want it has new look (still 2 panels, but not like mate).
I'm sure it works good. Yesterday was a basic installation to check the features and everything and it was so good. I'm going to do it on my laptop to see everything i need for a home version. After everything is done (configuration and packages) we come to phase 2 which i would like to invite some of you to try secret testing.
I think I also got what that is.
To confirm it, have to wait for the Official Lauch.
It it is what i think it is, it will be awesome.
Seems Like UbuntuDDE 20.4 side panels that have been recently released by ubuntults
Yet hopping for Auto-Tiling as Pop OS 20.04 that would be better for multitasking interface
This is not Deepin DE. We don't really trust that DE.
Q. Nia.X6.Root : openbox wm?
A. No ,@Nia.X6.Root
---
I'm having 2 minor issues
also i have found 2 tools ,which should be added to The "secret".
( *

waiting… )
cool, guess have to wait for the official release
chillax
Need to here that. This DE is pretty much from scratch style installation by debian so i have to take care all of missing softwares / applets
Development status:
Everything looks good.
Still don't have good file manager
No screenshot applet on repo. Choosing gnome-screenshot instead
The idea is customize the DE and then get configs, write to skel and by now it likely doesn't work for this secret thing.
after search my issues on DDG i could not find any solutions
1st issue : i found an alternative method for it
2nd issue : Could Not find any Solution ,hoping if someone knows how to fix
so my current issue is: Blue color Appears Purple in The "secret"
No ,This is Not an issue with my screen because this is not an issue on "Mate"


How it looks in the "secret"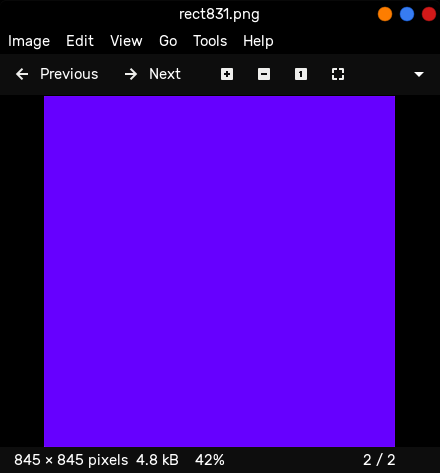 ---
Edit: Issue 2 Fixed (Using Nomacs instead of EOG & EOM)
this issue is on EOG & EOM
NO More Issues

i'm having some issues on this secret thing. Screen freezy or screensaver error. I'm not sure if it is secret's problem or driver problem but it worth to try.